Why the Chicago Bulls Can Improve by Trading Taj Gibson
At the NBA's trade deadline this past season, there were rumors that Taj Gibson was available. This summer, the Bulls ought to revisit moving Gibson out of Chicago.
Taj Gibson has spent all seven NBA seasons in his career with the Chicago Bulls. Gibson has battle scars showing more and more and they're slowing him down at times. The Bulls face a situation where his minutes are more valuable if the Bulls play a younger athlete like Cristiano Felicio or Nikola Mirotic at his position for most of next year.
Over the last two years, Gibson has noticeably less hops on his defense after all the bang-up games he endured with former Bulls head coach Tom Thibodeau. Gibson can only do so much on offense. He forces post-up attempts sometimes and he really plays best as an off-ball attacker in the paint or as a putback monster. Gibson is actually a kink in a system that Fred Hoiberg's "Hoiball" offense plays at.
Gibson's a more effective player in a slower twin-post offense and gets really winded by the faster Hoiball sets, getting overextended on defense. As valuable as Gibson can be at times, he's 31 years old and a quicker system could cause his body to wear down even faster.
It would be hard to depart with a team-first guy like Taj Gibson is, but from the looks of things, it might be what's best for the team now more than ever.
Plus, it would certainly fits the "aggressive measures" dictum of Bulls owner Jerry Reinsdorf for moving on and getting better in the future.
When you look at Gibson's numbers from last season: 11.7 points per 36 minutes (.528 FG), 9.4 rebounds, 2.0 assists, it would sense to move him, especially looking at the per-36 numbers of Cristiano Felicio (11.8 points per 36 minutes, .556 FG, 2.9 assists and 1.9 blocks) and even Bobby Portis (14.2 points per 36 minutes with .308 shooting from long range and 11.0 rebounds).
Both Felicio and Portis perform much better as versatile inside-outside threats and strong rebounders. With their youth and athleticism, it makes things easier to shop Gibson for potential draft picks.
Trading Taj Gibson looks better once you look at the future core getting more minutes and being better on offense, rebounding and on defense. Felicio and Portis can improve the defense of the Bulls and both have an ability to stretch the floor at times with their shooting.
With Gibson potentially gone, that opens the door for Mirotic to reach his full potential; something that the Bulls have seen at times, but with injuries throughout last year, it stunted his progress.
As a personal opinion, there does seem to be a locker room rift with guys like Gibson, Jimmy Butler and Aaron Brooks; cogs in the later Thibodeau days. All three weren't great at passing to open shooters — a Hoiball instinctive priority — and it came down to either ISOing the offense (Butler), posting up against a stern defender (Gibson), or throw up a contested three-point brick (Brooks).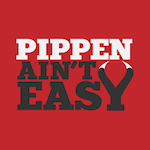 Want your voice heard? Join the Pippen Ain't Easy team!
Write for us!
For guys like Mirotic and Doug McDermott to fully succeed, they need opportunities and shots to produce. That's what they're best at it.
Getting rid of Taj Gibson's salary (close to $9M next season) is also a huge plus going into the summer, as the team retools the rotation for Hoiball's speed, consistency and explosive scoring. The Bulls can compensate for Gibson's defensive and rebounding by grabbing draft projects like Prince Ibeh, who can also backstop Felicio, Portis and Noah (if he returns) in the paint. Drafting someone like Ibeh would come cheaper than Hassan Whiteside. who will definitely be in consideration for a max deal.
The Bulls are not playing a twin-post offense any longer. It's time to move on by trading Taj Gibson and get the team into the next scoring gear with a different core of players.