Bulls' dominant win over Jazz simply delays this team's inevitable fate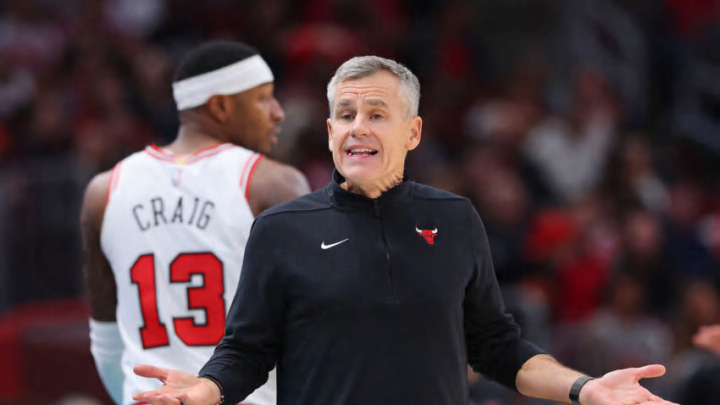 Billy Donovan, Chicago Bulls (Photo by Michael Reaves/Getty Images) /
With tensions running higher than ever as of late, the pressure was on for the Chicago Bulls to come out strong and beat an equally-struggling team in the Utah Jazz at home last night. Fortunately, Chicago looked like a much more competent team than the one we've been watching thus far, and soundly dispatched Utah 130-113.
For the first time this season, the Bulls looked like a competent three-point shooting team, jacking up 34 long-range shots and converting on 18 of said attempts (52.9%). Zach LaVine led the team with 24 points, but the efforts of DeMar DeRozan and Coby White truly propped the Bulls up, as the pair combined for 39 points on 15-for-22 shooting from the field and 5-for-7 from deep.
Racing out to an early lead, the Jazz would coughed it back up with 3:48 remaining in the first quarter, and the Bulls would never look back from there. Chicago's bench was largely responsible for this complete performance, as four bench players — Patrick Williams, Alex Caruso, Andre Drummond, and Jevon Carter — each produced point totals in the double-digits to outscore Utah's bench 54-43.
Former prized Bulls prospect Lauri Markkanen did everything he could to make things competitive, dropping a game-high 29 points on the team that once traded him away. Unfortunately for him, none of his Jazz teammates would score even half of Markkanen's point total, allowing Chicago's superior offensive weapons to build an insurmountable lead down the stretch.
A strong win over the Jazz still isn't enough to disguise the fact that the Bulls are in dire need of a full-blown makeover.
While I do appreciate the Bulls getting a win (and looking good while doing it) for a change, I think it's important to keep our head's screwed on here and view this objectively. Beating the Jazz doesn't exactly make the Bulls giant-slayers; in fact, Utah entered last night's contest at an equally poor 2-5 record as Chicago.
The three teams the Bulls have managed to defeat combine for a 9-13 record, and none are expected to be playoff contenders. At the same time, Chicago has already dropped games to the 2-6 Pistons and the 3-4 Nets (who were missing two starters). This was supposed to be the easy portion of Chicago's schedule, and yet this team has stumbled its way to 12th place in the Eastern Conference.
If the cracks are already beginning to show this early, where are things going to stand when Chicago takes on Boston, Milwaukee (twice), New Orleans, Denver, Miami (twice), Philadelphia, and Los Angeles in a 9-game stretch at the start of December?
Time and time again, this franchise has failed to recognize when the talent on the current roster simply isn't enough to realistically achieve the goals they set out at the onset of the season. Unless regular season wins against the Jazz are what were hoping for from the Bulls this year (and it doesn't appear to be so, considering last night's 81% attendance rate), it may finally be time to initiate a true rebuild rather than biding our time with this current core that's not going anywhere worth seeing in the first place.